At
MicroSaaSHQ,
we try to cover stories from founders building successful Micro SaaS and other profitable products.
One of the things we've been curious about is what books founders recommend. So far, we've talked to over 80 founders and here are some of the key takeaways from those conversations:
We received 82 unique book recommendations from 82 different founders! What a coincidence! Some founders recommended multiple titles and a few weren't into reading books at all.
The range of titles recommended was varied and interesting - from business and leadership books to science fiction and stoic philosophy!
We grouped the book titles according to number of recommendations received and the results are quite diversified:
Here's the percentage recommendation of all books mentioned in the interviews:
If we zoom in further and look closer at the data by only considering the books that have 3 or more recommendations, we get the following results: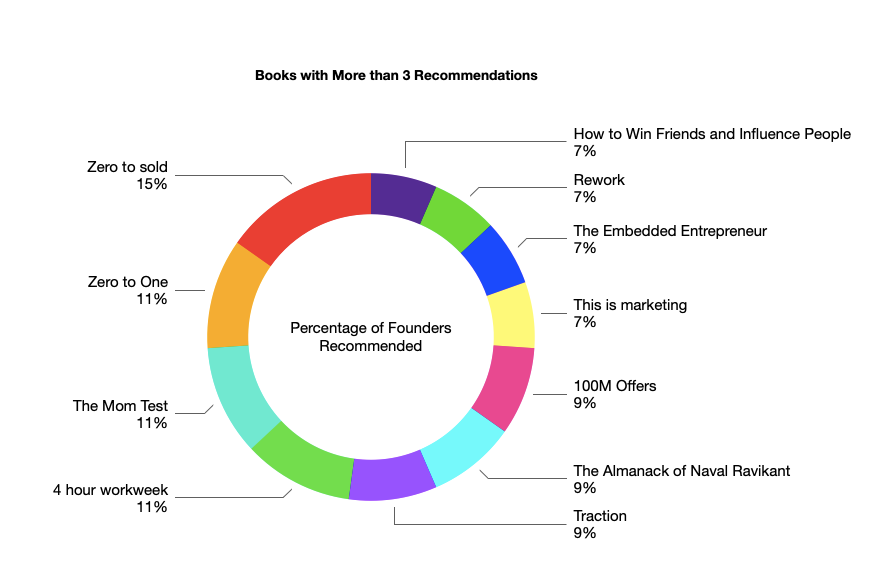 Here are some interesting thoughts our founders shared about the books they recommend:
Dagobert Renouf, Founder Logology:
I love the book Zero to One by Peter Thiel because it managed to teach me new stuff about marketing that changed my life. Also, Rework by Jason Fried and the guys from Basecamp is the playbook of how to bootstrap a startup, and it was written 15 years ago!
Geoff Roberts, Founder Outseta:
Reinventing Organization by Frederic Laloux—This book will challenge you to challenge the status quo of how businesses are built. It's been a huge influence. Life Profitability by Adie Pienaar—This books begs an important questions that too few entrepreneurs ask—is you start-up actually enriching your life?
Joe Masilotti, Founder RailsDevs:
If you are going to read one marketing, sales, or business book then I recommend Obviously Awesome by April Dunford. It's all about positioning your product the right way so customers are more likely to buy it and love it. I do the positioning exercise outlined in the book for every new product I start. It helps me answer the important questions like who will buy this and what language I should use on my marketing pages.
Marko Saric, Founder Plausible Analytics:
Rework by the Basecamp team is my favorite book about startups. It's just such a refreshing take on running a company and I've reread it several times. Many of the things we do with Plausible are inspired by the Basecamp approach. This Is Marketing by Seth Godin is my favorite book about marketing. It's just a great and refreshing take on what marketing means in the modern world that I wish more people in the business world would read and consider.
Andrew Kamphey, Founder Better Sheets:
Launch by Jeff Walker changed my business. It has a very simple email framework to either create a new business with, or in my case I added a workshop to my revenue streams. It got me a lot closer to my customers. Allowed me to breakthrough and directly help people deeply. Along with Launch, I think $100M Offers helps change your own personal direction in business. If you're building a small service business, or agency, or even SaaS, and want to add new revenue streams, going higher offer, bigger offer, is the way to test out theories quickly. go hard for 30 days one one thing, and figure it out. These two books can be bought on kindle for $2.99 total, and added $1,000 to my revenue in the month after I read them.
Leandro Zubrezki, Founder Notion2Sheets:
For books I would say Antifragile by Taleb is a must read for everyone, it really helps you make better decisions in what to invest your time and mostly what to avoid. I read a lot of stoic philosophy, Meditations by Marcus Aurelius, Letters from a Stoic by Seneca and the newsletter from Ryan Holiday Daily Stoic is great to keep the concepts always fresh.
Allison Seboldt, Founder PageFactory:
Two books I wish I had read sooner on my journey are The 4-Hour Work Week by Tim Ferris and The E-Myth by Michael E. Gerber. These books might not seem relevant to today's entrepreneur since they are kind of old, but trust me, their teachings are very relevant even today.
Mike Slaats, Founder Upvoty:
The one book I always recommend is 'The Obstacle is the Way' by Ryan Holiday. Definitely a book every founder should read. It helps you think in perspective and to be calm and have a good headspace.
Marc Beinder, Founder Podtrics:
A book I recommend is The Ride of a Lifetime by Bob Iger, the former CEO of The Walt Disney Company. Seeing how he grew Disney into the empire it is today inspires me to not give up despite the challenges I may face.
---