What is SaaS?
SaaS (Software as a service) refers to a software that is not installed on a local computer but is instead accessed on the internet mainly through a web browser. Users typically pay a subscription based fee on a recurring monthly or annual basis instead of a one-off payment. SaaS applications are now ubiquitous and seamlessly integrated in our online lives - Gmail, Google docs, Zoom etc. are some of the most popular SaaS that many of us use everyday. Collectively, these SaaS platforms have approximately 14 billion users worldwide.
Some recent key SaaS statistics that show the growth potential and indicate trends:
The global SaaS market is expected to grow from $235.58 billion in 2022 to $253.62 billion in 2023 at a compound annual growth rate (CAGR) of 7.7% [1]
According to Gartner, end-user SaaS spending will reach $208 billion in 2023, up from $152 billion in 2021.
The average number of apps used by organizations has seen an 18% increase in 2023, rising from 110 apps last year to 130 apps currently [2].
The SaaS market is expected to grow to $328.03 billion in 2027 at a CAGR of 6.6%. [1]
What is the difference between a SaaS and a Micro SaaS?
Many newcomers often get confused between a SaaS and a Micro SaaS. The fundamental difference lies in their scale and focus. Micro SaaS targets a specific niche or a small segment of users by addressing a highly focused problem. As an example, Canva is a a well-known SaaS which offers a wide range of features such as creating images for social media, logos, book covers, presentations and videos among others. In contrast, a Micro-SaaS in this area might focus exclusively on logo design or on pitch deck creation etc.
The following comparison table will help you in having more clarity on the differences between SaaS and Micro SaaS.
| | | |
| --- | --- | --- |
| ㅤ | SaaS | Micro SaaS |
| Target Market | Broader and scalable to larger user bases. Includes enterprise-level customers as well | Niche market for smaller customer segments. |
| Features | Comprehensive set of features | Focused and small set of features |
| Costs | High development, maintenance, and support costs | Lower development, maintenance, and support costs |
| Time to Market | Longer development and launch times | Quicker development and launch times |
| Revenues | Higher revenue potential | Lower revenue potential |
| Customer Support | Extensive, dedicated support teams | leaner support |
| Integration | Comprehensive API and third-party integrations | Limited API and integration options |
| User Experience | Usually more complex and steeper learning curve | Mostly simplified and user-friendly experiences |
| Marketing Efforts | Larger marketing budget, wider reach | Targeted, lower-cost marketing efforts |
| Security | Security is a major focus | Basic security measures |
Should I pick a SaaS or a Micro SaaS?
Both SaaS and Micro SaaS can be the basis of building a profitable
tech startup
. This choice mainly depends on your business goals as well as your preferred approach to building a business.
Micro-SaaS offers the advantage of being able to bootstrap your entire business using your own capital and reinvesting the revenue back into it, even without any external funding. This is possible because it requires lesser time and resources and the product is relatively much simpler to build. Moreover, maintaining a Micro SaaS is usually less stressful due to its smaller scale and can often be managed by a solo-founder. Not having an investment has an advantage of having more control over business decisions, enabling you to grow it in a calmer way on your own terms. It can also serve as a stepping stone for building a full-fledged SaaS product later on.
However, if you aim to scale quickly, enjoy taking high risks, managing large teams and want to target higher revenues then working on a SaaS may be a better fit. The financial requirements of a SaaS are higher due to larger scale and there are more extensive marketing and support needs as well as complex development and compliance requirements. Consequently, this often necessitates seeking external financial funding, which comes with its own set of advantages and drawbacks. See the section
Why should you build a SaaS Startup?
where we discuss the SaaS startups and some of the common reasons for their failure.
What is B2B SaaS vs B2C SaaS?
B2B and B2C apply to both Micro-SaaS and regular SaaS. From here on, we'll just use 'SaaS' to keep things simple, unless we need to get into the specifics.
B2B and B2C are just ways to describe who a SaaS business is aiming to serve.
B2B SaaS: B2B (Business-to-Business) SaaS companies provide software solutions to other businesses solving their specific problems or use cases. Examples of popular B2B SaaS companies include Salesforce, Slack, HubSpot, Shopify etc..
B2C SaaS: B2C (Business-to-Consumer) SaaS products are targeted towards individual consumers such as productivity tools, fitness apps or personal finance management. Examples of well-known B2C SaaS companies include Grammarly, Duolingo, Evernote, Spotify etc.
How can you choose between B2B SaaS vs B2C SaaS? The Pros and Cons.
B2B markets often have fewer customers but higher revenue potential per customer as compared to B2C. Businesses usually have bigger budgets and are more likely to enter into long-term contracts. Once a company has successfully included a SaaS solution as part of their workflow and have invested time and human resources, they are less likely to switch to a competitor unless necessary. As a result, customer churn tends to be lower for a B2B SaaS.
Customer acquisition for B2B is, however, generally more complex and slow as multiple decision makers may be involved. Acquiring customers for B2C, on the other hand, is quicker and more straightforward is usually although retaining them over a longer period can be quite challenging. B2C customers are more likely to switch to competing products.
Proving quality-support for any business is vital to its success. But B2B support needs are more extensive and time-critical.
Both B2B and B2C can be profitable and the choice depends on factors such as your target audience, budget, and personal preferences. Success stories exist for both B2C and B2B SaaS platforms launched by solo founders.
Why is  finding SaaS product ideas tough?
Finding good SaaS product ideas that will be profitable can be quite challenging due to several reasons:
Firstly, the sheer number of existing SaaS products makes it difficult to find a unique offering that fills a gap in the saturated market.
Secondly, to generate
profitable software ideas
, one must understand the pain points of potential customers. This requires either extensive experience working in the target market or conducting thorough market research.
Lastly, technical feasibility must be considered. We need to come up with an idea that is technically viable to develop and implement within a reasonable timeframe, taking into account factors such as available skills, costs, and evolving trends.
How should you choose a SaaS Idea?
Finding the right
SaaS startup idea
is an iterative process that often involves adapting and improving based on experience. Here are some key takeaways shared by many successful SaaS founders to guide you in this process:
Selecting the target market: Start by picking up a niche in which you have experience or you are passionate about.
Market Research for pain points: Identify the issues that your potential customers might be having and for which they are willing to pay. Customers are more inclined to pay for solutions that address their pain points rather than services they simply like but may not need.
Competitor Research: Study and analyze the competitors. Look for gaps in existing solutions, which could be related to support, user interface, or specific features.
Market size evaluation: if a market is too small, there might not be enough potential customers to make it profitable. Ensure the market is large enough to provide a sufficient customer base for profitability.
Technical feasibility: Assess whether it's realistic to develop within a reasonable time. You can cut down on development time and cost with white-label SaaS solutions.
After you've picked a SaaS idea, it's crucial to validate the idea itself as well as your ability to reach potential customers. This basically means finding out if people are actually willing to pay for it and if you can reach the right audience. You can do this by creating a simple landing page with a waitlist, or by building a minimum viable product (MVP). Engaging with potential customers and getting their input will help you refine your initial idea and make prudent decisions. Alternatively, If you want to keep things simple, you can also start by building digital products such as templates, starterkits, newsletters etc.. See our post on
digital products ideas
for some inspiration.
Where can I find profitable SaaS Ideas?
A few sources you can use to find some good
SaaS ideas
. Don't rush without doing proper research.
A good research saves you hundreds of hours from working on a wrong product.
MicroSaaSIdeas - A newsletter run by me where you can find more than 1000+ profitable Micro SaaS ideas and other profitable products with deep-dive reports across 90+ SaaS niches.
Observer Acquire.com and see what products are being sold
See on Reddit. Use GummySearch.com for more insights around Reddit.
Observe ProductHunt, and BetaList launches closely.
See on IndieHackers - Every day, many discussions are being done on IndieHackers.
Quora - See questions related to your niche and see what kind of discussions are going on in Quora
Our own pain points - Observe your own pain points. These observations could be even from your day-to-day work. See if others have the same problem so that you can build a solution out of it.
ExplodingTrends is another good place to see which topics are trending and build products around growing trends
MicroSaaSHQ - A community run by me for Micro SaaS builders, makers, and founders. It's an async community for hundreds of founders.
18 examples of profitable SaaS
Unicorn Platform: a landing page builder. Bootstrapped by  Alexander Isora, it reached $16K MRR with 1000 paying customers.
EmailGurus.xyz - A Gmail plugin - Emailgurus flags emails from unknown senders and classifies them to keep the inbox clean and focused. Founded by Aymane Sennoussi  in 2022. Reached $500 MRR in Just 1 Month with 70+ paying customers
SparkHire.com - A video interviewing platform where candidates answer interview questions in a pre-recorded video interview. Supports live interviews as well. Founded in 2010 by Josh Tolan, Spark Hire has reached an estimated annual revenue of $8.2M
MeetEdgar.com: Social media management tool that also lets you monitor and A/B test variations to see what resonates best with your audience across multiple social networks. Founded by Laura Roeder in 2014, who bootstrapped it to $4MM in ARR in 2.5 years
ConvertKit.com - ConverKit's email marketing tool helps to test two different subject lines to 30% of email subscribers list and automatically deliver the winning copy to the rest. Founded in January, 2013 by Nathan Barry. Crossed $2.79M MRR
LeaveMeAlone.app - Easily unsubscribe from emails. Shows all of the newsletters in one place and helps unsubscribe from those emails with a single click. Launched in 2019 by Danielle and James. Reached $4400 MRR in 18 months with 400 paying customers.
SproutVideo.com - Powerful live and on-demand video hosting for businesses. Easy-to-use tools for secure video sharing, video marketing, player customization, analyzing viewer engagement, etc. SproutVideo is bootstrapped and founded in August 2010. It reached $627K in revenue in 2022
Lanva.io - Uses AI and machine learning to analyze a video to create a searchable, actionable index of topics and unlock otherwise buried key moments, insights and knowledge. Founded by Alex Pethick, Lanva made $4034 from 56 customers from the 48-hour presell launch in mid-2021
SEOptimer.com: SEO Audit Tool that will perform a detailed SEO Analysis across 100 website data points, and provide clear and actionable recommendations for steps you can take to improve your online presence and ultimately rank better in Search Engine. The estimated annual revenue is $ 229.4K.
TypingMind.com, a UI for ChatGPT by Tony Dinh, crosses $10K in revenue in less than 2 weeks after launch.
Frase.io: Frase AI helps to research, write, and optimize high-quality SEO content in minutes instead of hours. Generated nearly $800K in total revenue and added over 8,000 customers in only 28 days after launching on AppSumo in 2020. Received $947K in funding.
KatLinks.io Affordable SEO Tool for Makers to discover best keywords, identify website weaknesses, track ranking wins, get more backlinks, increase SEO authority, and more. Reached $600 MRR in 12 Months.
Beautiful.ai: Create professional, stunning presentations in minutes. Beautiful.ai has hundreds of smart slides built with AI-assisted design. The DesignerBot builds presentations complete with professional slides, content, charts, and images. Hit $1.9M revenue in 2022.
getofficely.com: Transform your hybrid office with one tool to book desks and boost attendance, all in Slack. Reached $75K in monthly recurring revenue.
SalesCookie.com: automates every aspect of sales commissions - from participant enrollment to incentive plan design. Sales Cookie reached $389.1K in revenue in 2022.
CSSBattle.dev - CSS code-golfing game where users replicate images visually with CSS in the least number of characters to climb the leaderboards. There are battles that happen regularly where different targets get unlocked. Apart from the code-golfing aspect, it is used for practicing and improving CSS by developers. Reached $1500 MRR
WP Courseware - WordPress LMS plugin that makes course creation simple and fast with an intuitive, drag-and-drop course builder. Crossed $23K MRR
Streak.com - CRM in your Inbox. Streak helps you with business processes inside Gmail. Founded by  Aleem Mawani and Omar Ismail in 2011. Received $1.9M  funding. Approximated revenue is $10.9 M
12 examples of SaaS You can build today quickly
1. AI Logo Maker
Generating a logo can be a time-consuming task for founders for several reasons. founders are often busy with other aspects of launching and growing their businesses, such as product development, customer acquisition, and fundraising. This can make it challenging to dedicate the time and focus needed to create a well-designed logo. There are many vendors in this space that generate logos based on selected themes, samples and colors. But adding an AI flavor to it makes it much better and also provides wide variety of options at the click of button. MakeLogo.AI is making $3.9K in monthly revenue. Looka.com received $5.5M in funding and hit $840K in revenue.
You can also see the trend below on how this is exponentially growing.
2. Tool to create Programming courses
Create a Micro-SaaS product that helps programmers create programming courses. See 
Slip
 for inspiration. The tool should provide a platform where 'programming course' creators can add text in a rich-text editor and also show editable code blocks with examples. Make sure that you support editable code blocks so that the course takers should be able to edit with the code and play around right inside your course. To achieve this part where you provide an editable code block that can take the code, execute and give the output - you should integrate this with online compilers. For example, if the content is created for a Python learning course, your code block should run on an online compiler engine that can take this code, execute it on Python and send back the result to display on the webpage. To achieve this kind of functionality you should be using tools like JDoodle or Sphere-Engine. Tools like this support 20+ programming languages so your users can create courses for 20+ programming languages by using these tools.
3. Youtube/Video SEO
Video SEO is important because it helps YouTube creators optimize their videos and channel to rank higher in search engine results pages. When creators optimize their videos with relevant keywords, tags, and descriptions, it makes it easier for viewers to find their content. This, in turn, can lead to increased views, engagement, and subscribers for the channel. By using Video SEO best practices, creators can ensure that their videos are visible to the right audience, and that they're reaching their target viewers. This is especially important on YouTube, where there are millions of videos and channels competing for attention. Creating a Micro SaaS products around video SEO can help with all of these. There are some players in this space. For example, see TubeBuddy.com that provides tools and resources to help YouTube creators optimize their channels and grow their audience. With features like Keyword Explorer, Video SEO, promotion tools, analytics, and A/B testing, creators can improve their video titles, descriptions, tags, and thumbnails. This helps them reach a wider audience and improve their channel's visibility.  TubeBuddy's estimated annual revenue is $1.4M
4. Virtual Team building Activities and Games
Virtual team-building activities play a key role in improving team collaboration. With teams going remote and working in hybrid mode, there is a greater need for virtual team-building activities that work seamlessly in hybrid teams. Online team challenges are fun and engaging team activities that require teams to work together to complete a task or challenge within a set period of time. Virtual team-building activities help to foster collaboration and build relationships. Create a Micro SaaS solution for virtual team-building activities and games that can help companies in a variety of ways. By providing an interactive platform that offers engaging activities and games, companies can foster a stronger sense of camaraderie among their team members, no matter where they are located. Additionally, Micro SaaS solutions like these can help to improve the morale of employees by providing a fun and creative way to bond, while also helping to reduce stress, boost productivity, and build teamwork skills. Campfire.to building the SaaS product around virtual team building/activities/games has hit $294K in revenue in 2022.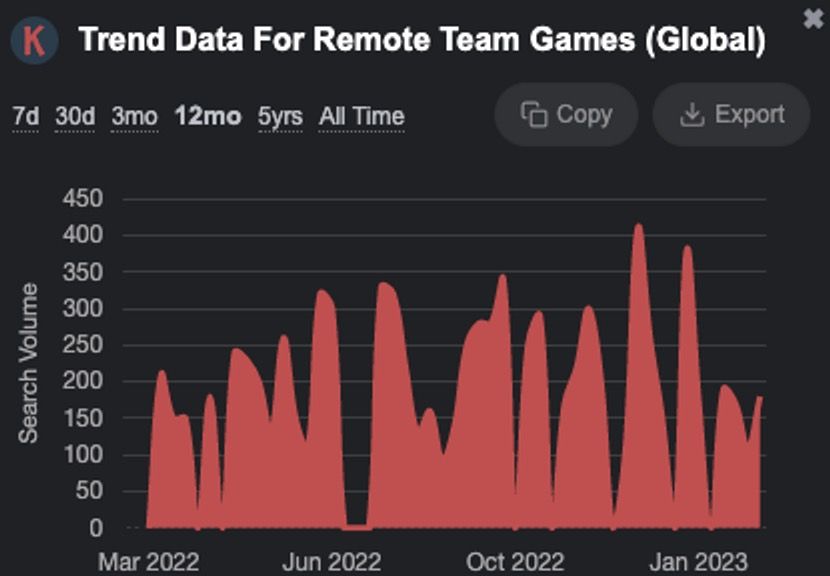 5. AI Presentation Maker
No matter how many times you create a presentation, creating a new presentation from scratch is a daunting task because of the huge time it takes. With Generative AI trending exponentially, create a Micro SaaS that can help create presentations on the fly with minimal input from the user. The tools should also let users edit the PPT right inside the tool or at least give them a downloadable asset to edit further. If the Generative AI is decent enough, in most cases, this should cut down at least 50%-60% of the effort required. The Micro SaaS product should have a user-friendly interface that allows users to fill in the basic information about their presentation such as the topic, intended audience, main points, and any special requirements. This information will be used by Generative AI to craft a presentation tailored to the user's needs. The users can then view the generated presentation and customize it as per their needs. The user should be able to also download the presentation to edit further or share the link with others. This SaaS solution could include access to premade templates, additional customization options, team collaboration, and more. A few products like MotionIt.ai, Beautiful.ai, and gptforslides.app are doing well in this space. Beautiful.ai hit $1.9M in revenue in 2022.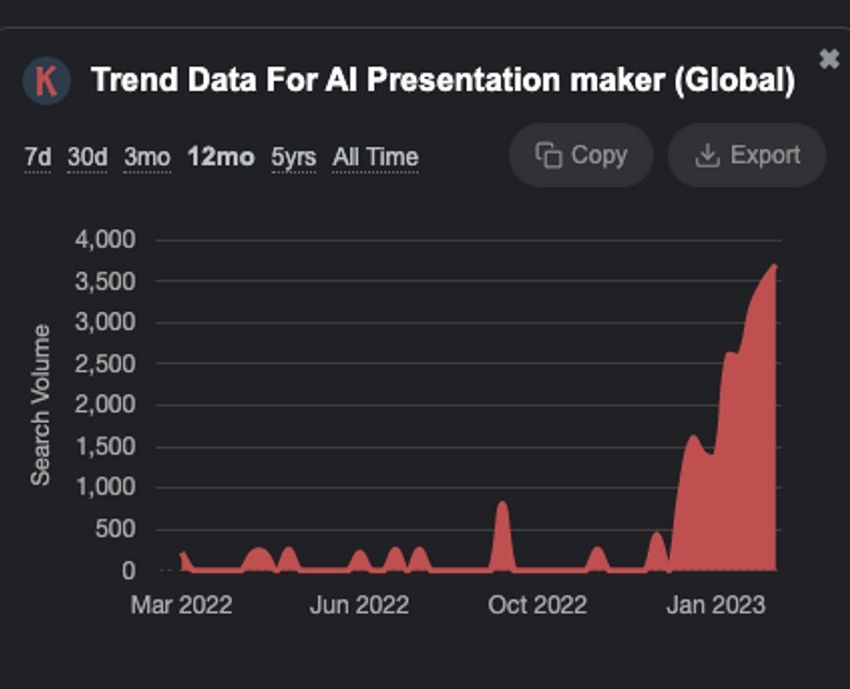 6. Micro SaaS to Snooze Emails
Email snooze is a feature that allows users to temporarily hide emails from their inboxes, so they can focus on other tasks without worrying about missing important emails. This feature can help users manage their inboxes more efficiently and reduce the stress of having to constantly monitor their inboxes. It can also help users prioritize their emails since they can snooze emails for a later time when they have more time to respond. Create a Micro SaaS that helps with snoozing emails based on preconfigured settings. The tool should be able to support adding exceptions for a few emails that have high priority. Other possible configs are allowing for a certain period in a day, or certain days in the week to snooze the emails automatically. See SilentInbox.com hit $3.3k in annual revenue in 2022. You can either build this as a Gmail Plugin or build this as a generic tool for other email providers too.
7. Micro SaaS CRM tools based out of Gmail
There are millions of users using Gmail. When these users need a CRM tool, they typically move out of Gmail and use a separate tool for the CRM activities. For example, if there is a ticket that needs to be created out of email, users need to take this email out and attach it to the CRM tool. Or, for example, if a new contact needs to be added, users need to take the email id from Gmail and add it to the CRM tools. Instead of making the user switch multiple tools, create a single tool where users can get CRM functionality on top of Gmail but right inside Gmail. Tools like these make it easy for Gmail users and help them have a CRM system right inside Gmail. Streak.com makes $7M/year in revenue with something like this.
8. AI-based Micro SaaS SEO content writer
An AI-based SEO-optimized content writer helps generate SEO rich content and assist with the creation of high-quality, SEO-friendly content. The tool should analyze keywords, topic areas, and other relevant data to help generate content that ranks well in search engine results pages. One of the key advantages of using an AI-based content writer is that it can save a significant amount of time and effort in creating content. Instead of manually researching and writing content, the tool should be able to quickly generate high-quality content based on the keywords and topics provided. The tool should be analyzing search data to identify keywords and phrases that are commonly used by users searching for specific topics. This can help improve the content's visibility in search engine results pages, which can in turn drive more traffic to a website. Frase.io and Clearscope.io are two good products in this space. Frase.io generated nearly $800K in total revenue and added over 8,000 customers in only 28 days after launching on AppSumo in 2020 and received $947K in funding. Clearscope's estimated annual revenue is $652.5k.
9. Micro SaaS around Personalized Sales Videos
Personalized sales videos are a highly effective sales tool. Personalized videos have a much higher click-through rate than generic, non-personalized videos. This is because personalized videos are tailored to the recipient and are more engaging and relevant to their needs, increasing the chances of them taking action. The demand for personalized videos is growing rapidly and customers expect a personalized experience. Personalized videos are a brilliant way to deliver that rich experience. Many businesses, especially those in the B2B space, are recognizing the effectiveness of personalized videos and are looking for solutions that can help them create these videos quickly and easily. Many businesses struggle to create personalized videos, either because they don't have the expertise or the resources to do so. By building a Micro SaaS that offers an easy-to-use platform for creating personalized videos, you can provide a solution that solves a real pain point for these businesses. Sendspark.com and Pitchlane.io are two good examples of this niche. In 2022, Sendspark reached $490.7K in revenue. LemList.com  is another example of this niche generating millions of dollars in revenue.
10. Simple Website Hosting
 There are many solutions to host a simple web project with HTML, javascript, and CSS files. But all of these need some kind of logging, connecting to Github, selecting the service tiers, adding billing, etc. But there is still a need for a much simpler solution that lets users drag and drop a folder with HTML, javascript, and CSS files and lets you see the output of the HTML files. While you can certainly do the same on services like Vercel, Render, Digital Ocean, Vultr, AWS, GCP, and Azure, there is still scope for a simple solution. Create a Micro-SaaS tool that lets users zip a folder with HTML, javascript, and CSS files and uploaded them into the web console. The tool should be able to upload the files to a server location and be able to provide a link to see the HTML output - as simple as that. Provide add-ons like connecting to custom domains, password-protected sites, etc as well to make it much better. Providing a way to connect to custom domains will let users see the output on their URLs. A product like this will be extremely useful to freelancers, and agencies who want to share the files and show the output to clients. See Tiiny.Host for inspiration that crossed $1K MRR in less than a year.
11. SEO Plugin for Wordpress
WordPress is one of the most popular website platforms out there. SEO plugins for WordPress are add-ons that users can install to their website to help improve the website's search engine rankings. These plugins can provide a range of features, including on-page optimization, XML sitemap creation, keyword analysis, and more. For example, these plugins can help optimize the content for your target keywords, add meta descriptions and titles to the pages and posts, and even create XML sitemaps to help search engines crawl the sites. Other features around this are on-page optimization, sitemap creation, and keyword analysis, social media integration and Google Analytics support. The advantage of creating plugins for an ecosystem like Wordpress is there are readily available users who often search for these kind of plugins and can bring in some traffic.. SEOPress.org
, 
LinkWhisperer.com
 etc are some tools in this space. 
SEOPress crossed $1 million in sales in 2021.
12. Marketplace for Freelancers/Vetted Freelancers
  Normal freelancer marketplaces like Fiverr and Upwork are meant for general freelancers and caters to a much bigger market. A vetted freelance marketplace is meant for vetted freelancers. There is a lot of demand for freelance and vetted marketplace. A vetted marketplace is a premium version of a normal freelance market. This can be extended and drilled down to specific niches as well. Niche down your marketplace as narrow as you can. Start with any specific niche - for example - a vetted marketplace only for designers or only for react developers or only for frontend developers. You can drill down to a location as well. For example, UnicornFactory.nz is meant for freelancers from New Zealand.
References:
[1] Software as a service (SaaS) Global Market Report 2023 by The Business Research Company
[2] 2023 State of SaaSOps report by BetterCloud